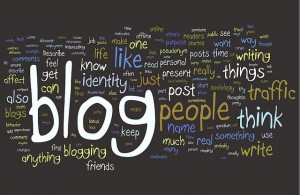 One of my favorite writers is Bamidele Onibalusi as he gives some very helpful advice on his writing blog.
Not only does he give really valuable advice by outlining his marketing strategy to getting clients along with his detailed guide on guest posting, but he's also a huge advocate of how blogging can be used to find new freelance clients.
He even has a slideshow aptly titled How to Use Blogging to Fuel Your Freelance Writing Business which is a must read for those wondering how they can get prospects to contact them for freelance work instead of vice versa.

One particular quote that really stood out for me is the following:
More than 1,200 freelancers were surveyed, and marketing techniques ranged from Word of Mouth (at 23%) to Advertising (at 0.8%) but blogging was nowhere to be found.
I found that statistic to be really interesting but it may help explain why some freelancers struggle to find new clients.
If you also follow Bamidele's blog, then you'll know that he makes a significant portion of his income by freelance writing. Recently, he posted that he's going to challenge himself to prove his point that blogging can lead to landing new clients.
More specifically, he's going to start a new blog from scratch with the goal of earning a 4 figure monthly freelance writing income in 3 to 6 months from new clients.
When I heard about his new challenge, I couldn't believe my luck. Freelance writing is exactly the direction that I want to go so I'll be following his case study while also documenting my own progress.
Stepping Out of Your Comfort Zone
And talk about stepping out of your comfort zone! For many, taking on such a challenge would be met with resistance but I do believe that consistently challenging yourself can not only make you grow as a person but can definitely lead to more success in the future.
I read a great post earlier by Leo Babauta titled The Willingness to Think Differently and he states the following:
I can summarize the most successful people I've ever known with one trait: the willingness to challenge mainstream ideas.
And it makes perfect sense as being unconventional makes you stand out above the rest.
While taking the "safe route" can often seem easier, it also means blending in with the average.
Leo finally ends his article with the following:
Learn to be proud of your ability to test things that people traditionally believe in, and not to worry so much if you stand out. In fact, learn to see standing out as good – not just to stand out, but to forge new ground, to challenge ideas, to express your individual voice rather than blending in.
I like that idea  and it's one that I've been thinking about for a while.
It also helps to explain how some individuals have become so successful as they were willing to challenge mainstream ideas by creating their own paths instead of relying on others.
This is exactly what I hope to achieve with this blog so I'll be posting a case study here to document by progress.
What kind of personal challenges have you undertaken?
Photo Credit: Kristina B