Once you have a topic to blog about the next step is to register a domain name.
This step is the most important so really take some time to think about the name that you want to use. You can use a personal name, like mine at hannwang.com or you can choose to register a brand name.
The problem though is that most domain names are already taken so it might be difficult finding the perfect one. One great way is to simply add a prefix or a suffix to the name that you want in case it's not available.

Here is a list of 200 prefixes and suffixes for domain names that you can use to help you get started.
Here are some additional tips to help get you started.
Register a domain name with your main keywords
If you are starting a blog about photography, then it helps to include the word in the domain name as that gives a clear indication to your visitors, and to the search engines, of the topic of your blog.
There are of course, plenty of domain names that are completely irrelevant to their names such as Google, Facebook, Zappos, Squidoo and Amazon but these companies have spent millions of dollars to brand their companies.
If you are planning on using the domain name for business purposes, then ideally it should also be memorable as well and something that people will remember when they click through to your site.
Register a .com
The .com extension is the most commonly used and is also one that you should stick with. There are plenty of well known blogs out that use other extensions, but it is always best to use a .com as that's what most people remember.
And while we're on that note, I would also suggest registering the .net and the .org for your domain name as well. Should your brand name start to become popular, you don't want other people to be able to register the exact same .net or .org extensions.
Keep the name short and sweet
While you might be tempted to register a name such as BestWeddingPhotographyTipsInTheWorld.com, it just sounds like a mouthful. When selecting a domain name, it's always best to keep it short and simple. This is more of a hunch than anything, but I also tend to avoid using dashes or hyphens when I register a domain.
To help make things easier, you can use a tool such as the one at DDwhois.com to be able to quickly see which domains are available to register by adding prefixes or suffixes.
By using DD Who Is, I was able to determine that the .com, .net and .org extensions for ultimatephotographyzone are available. This might not be the best domain name to register, but it's just an example of how you can brainstorm for ideas.
Avoid Trademarked Names
Never register a domain name that is trademarked such as Apple, Google, etc. This can get you in hot waters as those companies can send you a cease and desist letter and thereby force you to take down the name.
You may also even be forced to pay a fine. The bottom line is don't register a trademarked name under any circumstance.
If All Else Fails…
And you are not able to find the domain name that you want, then there are other alternatives you have available. You can always check GoDaddy auctions for available domain names that you can purchase or even browse around bidding sites such as Flippa.
If you see a domain name that is not being used but is registered, you can also attempt to contact the owner and offer them a price. If it's within budget then you should definitely consider making the purchase.
Recommended Domain Registrar
The most popular domain registrar is GoDaddy, but it's not the one I use nor recommend. Instead, I strongly recommend Internet.bs as that's the registrar I've been using for the last few years without any problems.
The one thing I don't like about GoDaddy is their aggressive up selling on their products and overly cluttered interface which makes the site difficult to navigate. Internet.bs is extremely easy to use and it's my registrar of choice.
GoDaddy
InternetBS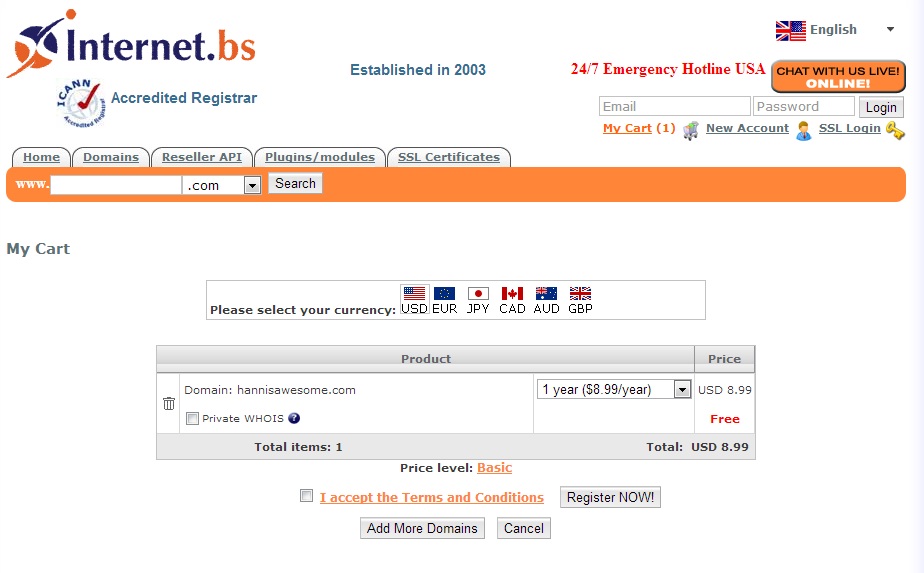 Between the two, the prices are about the same but one HUGE benefit of using Internet.bs is that you get free private whois registration which means that your private information such as your name and address is hidden from view should someone want to do a whois lookup for your domain.
In the next post, I'll go over which hosting company I use along with a detailed review.
Total Cost: $25.83 a year (or $8.49 should you decide to register only the .com extension)